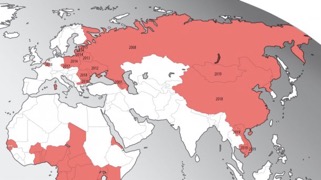 A group of swine professionals will describe their field experience and perspective gained while fighting against African Swine Fever.
一群专业养猪人士介绍他们在抗击非洲猪瘟过程中获得的实地经验和观点。
Our industry is facing a global threat due to the spread of the African Swine Fever virus (ASF). As the experiences with the disease grow, we at the 333pigsite wanted to collaborate as much as possible with industry professionals to share their perspective on managing the challenges. This article is the first of a series that will describe the field experience and perspectives gained while fighting ASF. Our interviewed swine professionals include an international production consultant, veterinarians from the Baltics and Poland, and a reference laboratory specialist based in Russia. Let's learn from their different experiences and perspectives.
由于非洲猪瘟病毒(ASF)的传播,我们的行业正面临全球性的威胁。随着疾病治疗经验的增长,Pig333希望尽可能多地与业内专业人士合作,分享他们应对挑战的观点。本文描述在对抗ASF过程中获得的现场经验和观点。我们采访的养猪专家包括一位国际生产顾问、分别来自波罗的海和波兰的兽医,以及一位驻俄罗斯的参考实验室专家。让我们从他们不同的经历和观点中学习。
All four of our swine specialists agreed that this is a very worrisome moment for the swine industry. Mr Corns, a North American consultant, that is now based in Europe, has been working for more than 10 years across the EU, Asia (mostly China), and Russia. He advises large vertically integrated customers on production and biosecurity. Mr Corns rates ASF as the number one problem in these regions. He quoted his colleague Dr. Adrian Balaban from Romania who said that, at this point, "you don't have to be infected to be affected by ASF". He highlighted his concern that the focus on addressing ASF has changed from a regional to a global scale.
我们的四位养猪业专家一致认为,这对养猪业来说是一个非常令人担忧的时刻。科恩斯是北美一名咨询师,目前常驻欧洲。他在欧盟、亚洲(主要是中国)和俄罗斯工作了10多年。他为大型垂直整合客户提供生产和生物安全方面的咨询。科恩斯将非洲猪瘟列为这些地区的头号问题。他引用了来自罗马尼亚的同事Adrian Balaban博士的话,他说,在这一点上,"感染非瘟并不是受影响的必要条件。"他强调了他的想法,即解决非瘟的重点已从区域范围转变为全球范围。
Dr Cepulis is an experienced swine vet. consultant with customers in the Baltic countries of Lithuania, Latvia and Estonia and parts of Belarus. He highlights that his clients perceive the disease as a major threat that can quickly lead their farms to bankruptcy. At the same time, he highlights that backyard farmers and hunters are not very concerned with the spread of the disease. In his opinion, the key to the epidemiology and prevention of the disease in this heavily forested region of the EU is the control of wild boar population. He also pointed out that, in Estonia, professional hunters were able to decrease the wild boar population significantly and they did not experience any domestic swine outbreaks last year. In Lithuania and Latvia , during the same time period, the hunting was conducted by non-professional hunting clubs and the subsequent numbers of wild boar remain high. He thinks that the risk of ASF for domestic pigs in Lithuania and Latvia is higher as a result of this difference.
Cepulis博士是一位经验丰富的养猪兽医。为波罗的海国家立陶宛、拉脱维亚、爱沙尼亚和白俄罗斯部分地区的客户提供咨询服务。他强调说,他的客户认为这种疾病是一个重大威胁,可能很快导致他们的农场破产。与此同时,他强调,后院的农民和猎人并不十分担心这种疾病的传播。在他看来,在这个森林茂密的欧盟地区,控制野猪数量是流行病学和预防该病的关键。他还指出,在爱沙尼亚,职业猎人能够显著减少野猪的数量,而且他们去年没有经历过任何国内爆发的野猪疫情。在立陶宛和拉脱维亚,在同一时期,狩猎是由非职业狩猎俱乐部进行的,后来野猪的数量仍然很高。他认为,由于这种差异,立陶宛和拉脱维亚的生猪患非瘟的风险更高。
Dr Karbowiak is a member of the biggest swine veterinary clinic in Poland. Even though he also perceives ASF to be the most important problem in his country, they "don't panic about the disease anymore" like they used to 3 years ago with the first outbreaks in his area. With clients in Poland and Ukraine, he visits a big range of farms, from back yard producers, with no more than 30 sows, to large facilities that may house up to 3000 sows. He is used to dealing with the consequences of having nearby outbreaks. He is the only practitioner in his clinic that has diagnosed an outbreak in a finishing facility. The goal of his clinic is to continue to keep all their clients free of ASF even though the virus is present and active in his country.
Karbowiak博士是波兰最大的猪兽医诊所的成员。尽管他也认为非洲猪瘟是波兰面临最重要的问题,他们"不再像三年前第一次爆发时那样对这种疾病感到恐慌"。与波兰和乌克兰的客户一起,他参观了大量的农场,从仅有不超过30头母猪的后院生产者,到可能容纳3000头母猪的大型设施。他习惯于处理附近爆发疫情带来的后果。他是他诊所里唯一一个在育肥猪舍里诊断出疾病爆发的医生。他的诊所的目标是继续让所有的客户远离非洲猪瘟,哪怕这种病毒在波兰存在并且很活跃。
Our final specialist is Dr Kolbasov who is the current director of the Russian reference center for ASF research and diagnostics based in the Vladimir region central part of Russia. Since 2007, Dr. Kolbasov has been directly involved in the diagnostics and investigation of all outbreaks reported in Russia. His ASF experience includes wild boars and also a wide range of industry segments including all types of swine farms, processing plants, and slaughter plants. He also agrees with the significant importance of this disease, which also carries the nickname of "trade disease". He notes that the level of concern in his region will depend on how dependent the region is on trade - "If the region is not interested in the external market, unfortunately, this will not be a concern for those swine producers"- says Dr. Kolbasov. On the other hand, he sees ASF as a good indicator of the real farm biosecurity level. He is proud to say that producers have learnt a lot and improved from this experience. He explained to us that the lack of ASF outbreaks in certain areas has been used as an indicator of biosecurity improvements and, consequently, as a good indicator of the overall health improvement of Russian swine herds.
最后一位专家是科尔巴索夫博士,他是位于俄罗斯中部弗拉基米尔地区的非洲猪瘟研究和诊断俄罗斯参考中心的现任主任。自2007年以来,科尔巴索夫博士一直直接参与俄罗斯报告的所有疫情的诊断和调查工作。他关于非瘟的经验包括野猪,以及广泛的行业部门,包括所有类型的养猪场、加工厂和屠宰场。他也同意这种疾病的重要性,也有"贸易疾病"的绰号。他指出,该地区的担忧程度将取决于该地区对贸易的依赖程度。科尔巴索夫博士说:"不幸的是,如果该地区对外部市场不感兴趣,这些养猪户就不会担心。"另一方面,他认为非洲猪瘟是衡量农场生物安全水平的良好指标。他很自豪地说,生产商从这次经历中学到了很多,并得到了改善。他向我们解释说,某些地区没有爆发非瘟疫情,故被用作生物安全改善的指标,因此,也被用作俄罗斯猪群整体健康改善的良好指标。
Except for Mr. Corns' Chinese experience, all the regions represented by our swine specialists were initially affected due to outbreaks in wild boars. However, the event that was responsible for the transmission of the virus into commercial outbreaks varied between these regions.
除了科恩斯先生的中国经验,我们的养猪专家所代表的所有地区最初都受到野猪疫情的影响。然而,导致病毒传播到商业暴发的事件在这些区域之间各不相同。
Dr. Karbowiak shared that the main event responsible for moving the disease from wild boars on the border of Belarus, 3 years after it was first detected in wild boars, was the illegal movement of pigs. This movement transmitted the virus into commercial facilities that were 100 km away and, consequently, the virus spread between farms from the North to South of Eastern Poland towards the Vistula River (a highly concentrated wild boar area).
Karbowiak博士说,在白俄罗斯边境的野猪中首次发现这种疾病三年后,导致这种疾病从野猪中传播的主要原因是非法的生猪迁徙。这一运动将病毒传播到100公里以外的商业设施,因此,病毒在波兰东部北部和南部的农场之间向维斯图拉河(高度集中的野猪区)传播。
Having worked in Russia since before ASF entered the country in 2007, Dr. Kolbasov has many years of experience and he can describe in detail the initial chain of outbreaks in that country. These outbreaks started in the Chechnya region (i.e. the low swine density border region with Georgia) in 2007, and then jumped to the North Ossetia region of Russia affecting many commercial farms. His experience "tells him" that, when the virus gets into commercial farms it is not difficult to eradicate the disease from the area. However, the problem gets more challenging in regions where there is a high density of backyard farms that may occupy many hectares and frequently have lower biosecurity standards. Dr. Cepulis agrees with this epidemiologic scenario and the role of wild boars. He describes summers as the worst season for ASF transmission between domestic backyard production and wild boars in the Baltic countries.
自2007年非洲猪瘟传入俄罗斯之前,Kolbasov博士就一直在俄罗斯工作,他有多年的经验,能够详细描述该国最初的疫情链。这些暴发始于2007年车臣地区(即与格鲁吉亚接壤的低猪密度边境地区),然后蔓延到俄罗斯北奥塞梯地区,影响了许多商业农场。他的经验"告诉他",当病毒进入商业农场时,从该地区根除这种疾病并不困难。然而,在后院农场密度高、占地面积大、生物安全标准往往较低的地区,这一问题变得更具挑战性。Cepulis博士同意这种流行病学的观点和野猪的作用。他将夏季描述为国内后院生产和波罗的海国家野猪之间传播非瘟的最糟糕季节。
Finally, Mr. Corns points out the difference in the epidemiology of the disease in China and Romania. In China, there is not a significant number of wild boars playing a part in transmission and very large commercial facilities with high biosecurity are being infected. In Romania, there is a combination of wild boars, backyard farms, and large systems that are all being infected, and this combination is making the control of the disease one of the most difficult in EU. He highlights that carrying out a proper outbreak investigation on every case has been very valuable for their clients to identify biosecurity gaps.
最后,科恩斯指出了这种疾病在中国和罗马尼亚流行病学上的差异。在中国,野猪在传播过程中所起的作用并不大,而且有非常大的商业设施和高生物安全性正在受到感染。在罗马尼亚,野猪、后院农场和大型系统都受到感染,这使得控制这种疾病成为欧盟最困难的问题之一。他强调,对每一个病例开展适当的疫情调查对其客户查明生物安全漏洞非常有价值。
文章来源:Pig333
(文/爱猪网记者刘坤颖编译,爱猪网原创,转载请注明出处)